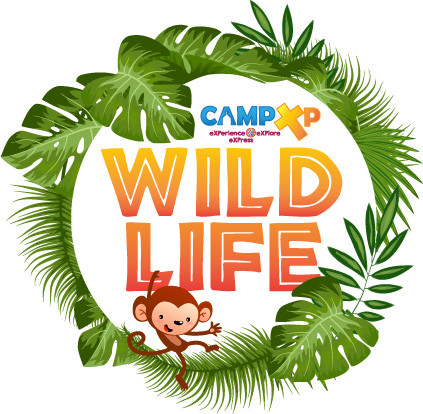 Camp XP: Where Kids eXPerience, eXPlore and eXPress Faith!
Join us this summer!
God is wild about you. This summer, campers will explore God's goodness and celebrate a ferocious faith that powers them through this wild life. Come make new friends and have fun with field trips, theme weeks, dress up days and more.
Ages
K-5th grade
(based on grade completed in 2018-2019 school year)

Birth date before Sept. 1, 2013

Time
7:00 a.m. - 6:00 p.m.

COSTS
Registration Fee: $50 per child.
One-time, non-refundable fee due at registration.
$85-105/week
for summer day camp at St. Paul UMC

Before Care (7 – 9 a.m.) $10/week
Camp Hours (9 a.m. – 4 p.m.) $85/week
After Care (4 – 6 p.m.) $10/week

Camp fees are due the Friday before week of attendance.
Weekly fee includes:
daily lunch
snacks
field trips like the Aquarium, Jumpstation, the movies, the pool, bowling, and more
special guests
camp activities such as arts and crafts, sports, water days, visits to local parks and recreation pools and much more!
Weekly fee due the Friday before each week of attendance
Pay with check, cash, or online by credit card
No upfront weekly fees due before summer
Choose the weeks your child will attend camp and only pay for those weeks
Camp activities are both indoors and outside so your child has the opportunity to play and cool off in the air-conditioning!
Dates
Camp is open Monday-Friday from June 3-August 9.
There is no camp on July 4.

Basketball Camp
June 10 - 14
This summer we will have a basketball week at Camp XP!
Our basketball camp will focus on teaching the fundamentals of the game in a fun and Christ-centered environment. Players will have the chance to develop their skills through drills and competitive games. The goal of our camp is to create an experience that will not only help transform the players skill, but also build character on and off the court.
Campers can attend basketball camp 9 AM - 1 PM which includes basketball, lunch, and devotional time! After 1 PM kids can continue to have fun doing regular camp activities for the rest of the day, or can be picked up. See price break-down below.
COSTS
Registration: $25/child for basketball hours only. $50/child for basketball and Camp XP.
One-time, non-refundable fee due at registration.
Weekly Fees
Before Care (7 - 9 a.m.) - $10/week
Basketball Camp Hours (9 a.m. - 1 p.m.) -$60/week
Camp XP Hours (1 - 4 p.m.) - $30/week
After Care (4 - 6 p.m.) - $10/week