"Truly I tell you, in so far as you did it for one of the least of these My brethren, you did it for Me." Matthew 25:40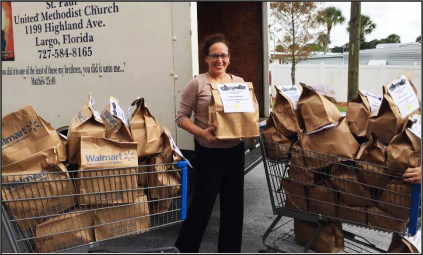 Open Arms Ministry is an outreach of St. Paul UMC. The Open Arms Resource Center offers food, cleaning supplies, personal care items in addition to gently used clothing, blankets, linens, shoes, socks and jackets. Items may be picked up only between 1-3 p.m. Monday-Thursday. There are no exceptions.
Those who are in need are invited to take what they need at no charge. Please remember the food and clothing is available for free through St. Paul family and friends in the community. It is a gift of love.
Items in high demand are dry goods, canned goods, baby items and bread. Donations are welcome and volunteers are always needed. Click here to fill out form.
The video below offers an introduction to the ministry.
When I can I pick up items?
The Open Arms Resource Center is open 1:00-3:00 p.m. Monday-Thursday. There are no exceptions to this time and no supplies are handed out at the church.
What about financial assistance?
Financial assistance is available Tuesday afternoons from 2-4 p.m. by appointment only, when there are available funds. Due to limited finances, assistance is limited geographically to Clearwater, Largo, Seminole and Dunedin residents. In addition, we are only able to help each person once in a 12-month period. You must call 727-586-5380 for an appointment. When requesting help with a bill, please bring a copy of the bill, valid ID, SSA cards for each member of your family, copies of your monthly expenses and proof of government assistance. While we are grateful we can assist you, it is even more important to us that we pray for you and give you spiritual support.
How can I help?
You can help by donating food or toilet paper, or by volunteering. Open Arms holds drop off days for donations on the second Saturday of every month from 9 a.m.-Noon. You can also leave non-perishable donations at the church office or in the blue shopping cart on Sundays. Volunteers are needed to help sort, stack and package food, sort blankets and clothing. Volunteer are also needed for the drive thru drop-off at the center (NE corner of Rosery and Highland Avenue in Largo) on the second Saturday of each month from 9 a.m.-noon. Contact Yvette Carter at 586-5380 to volunteer or you can fill out the form above.