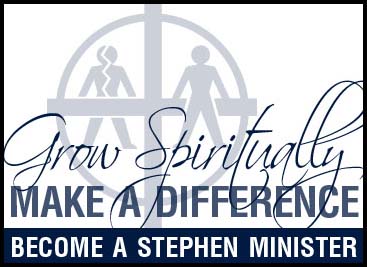 Meet & Greet Event
Stephen Ministry helps our congregation and community in a number of ways. It helps by building up the spiritual and emotional lives of the people who give care. It also is a gift to those who receive care.
Stephen Ministers take their life experiences and learn to use them to help others going through the same or similar circumstances. We take what we learned in training and how we have been healed and then use it to help other people. It's interesting to think that when we stop focusing on ourselves and help someone else, it helps us both.
Our mission is to focus on spiritual values and bring understanding that we all have problems, pain and concerns but it is only through Jesus we can we be made whole. Stephen Ministers become the heart and hands of Jesus for those needing care and love.
Please consider becoming a Stephen Minister. You are needed by your pastors and by your church family. Visit with us at Stephen Ministry's Meet & Greet on September 11 at 3 p.m. in room 201 of the Christian Life Enrichment Center. The Meet & Greet offers a chance to ask questions…any questions…about what it is truly like to serve in Stephen Ministry.

Stephen Ministry's training class starts in October. Please pray and consider serving in this caring ministry. It's amazing what you can do when Jesus is walking by your side!