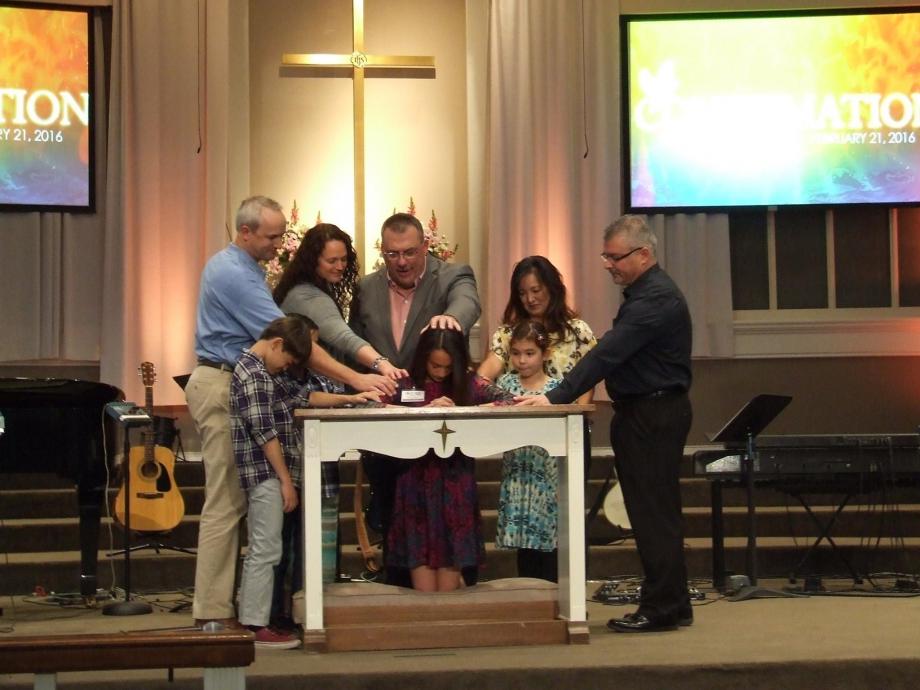 Confirmation Class
Confirmation is an 11-week class that is offered to students in Grade 6 and above. It challenges students to think theologically and ask deep questions about the Bible, Methodist history and doctrine, and their lives as people of faith. Confirmation marks a new phase in student's faith formation, one in which they are starting to think about what they believe and why they believe it.

We'll meet in the Student Ministry Room in the Christian Life Enrichment Center on Sundays from 9-10 a.m. The cost for the class is $35 which will help to cover various materials.

Expectations for Confirmation:
Students are expected to be at all of the sessions. If missing a session cannot be helped, please contact Alison, in advance, to schedule a make-up session that will take place at the end of the class.
Students are expected to attend a Confirmation Retreat that will kick off the class. It will be held at church from Friday, January 7- Saturday, January 8. We'll meet at 6 p.m. on Friday and we'll be done by 10 a.m. on Saturday. We'll begin with Pastor Bob who will teach Session 1 and then we'll hop on the bus and go play laser tag at Xtreme Fun Center. Session 2 will take place after breakfast on Saturday morning. Students should bring a Bible, sleeping bags, pillows, (air mattress is optional), clothes to sleep in and to wear on Saturday and toiletries. The Student Handbook will be presented on Friday night.
Students are expected to come to class each week with their Student Handbook and to spend time each week filling them out. A Bible will be presented to each student at the end of the class during Confirmation Worship but, if students have access to a Bible while going through the class, please make sure they bring one each week. If they do not have access to a Bible, one will be provided in class for them.
Students are expected to attend a worship service each week. We'd like to encourage families to attend Sunday morning worship together following the 9 a.m. class. 10:30 a.m. Worship takes place in the Sanctuary which is located on the SW corner of Highland and Rosery and it's our contemporary service. Student Worship is also an option which takes place on Sunday evenings in the CLEC from 5:30-8 p.m. Dinner is provided for $3 and we play games, experience student-led worship music, teaching by the Director of Student Ministry, Alison Van Duyne, and small group discussion following the teaching. Student Worship is available to all students in grades 6-12. Students are encouraged to mix up where they plan to worship so that they're getting the chance to experience worship with the entire church in the morning as well as Student Worship at night. By choosing to only attend one option, they'll be missing out on what the church is all about.
Students and families are expected to attend a Confirmation Rehearsal on Saturday, April 22 at 6 p.m. and the Confirmation Worship service which takes place on Sunday, April 23 at 10:30 a.m. Students should plan on wearing church attire for this service.
Session Schedule:

Session 1: Friday, January 6: "John Wesley"
Session 2: Saturday, January 7: "The Growth of Methodism"
Session 3: Sunday, January 8: "The Quadrilateral"
Session 4: Sunday, Jan. 15: "Grace"
Session 5: Sunday, Jan. 22: "Perfection"
Session 6: Sunday, Jan. 29: "Prayer"
Session 7: Sunday, Feb. 5: "Free Will and the Omnipresence of God"
Session 8: Sunday, Feb. 12: "Salvation"
Session 9: Sunday, Feb. 26: "Holy Communion"
Session 10: Sunday, Mar. 5: "Worship/Service"
Session 11: Sunday, Mar. 26: "The General Rules" and "The Global Methodist Church"
Session 12: Sunday, April 2: "Baptism and Confirmation"
Session 13: Sunday, April 9: "Covenant and Membership Vows"
Confirmation Worship: Sunday, April 23