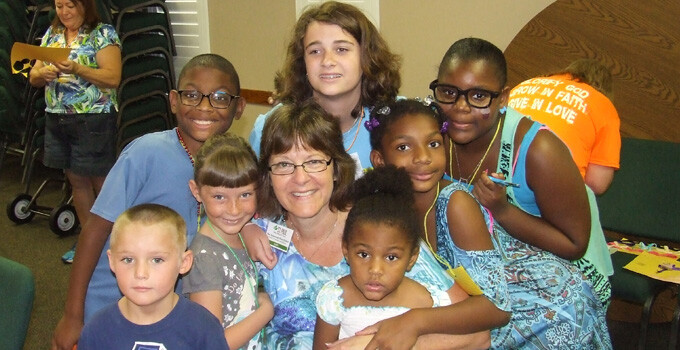 Back to School Jubilee
Preparations are underway for the Back to School Jubilee on Saturday, August 10. Each year, with your help, we distribute school supplies, backpacks and more to pre-registered children in our community. This year we will also provide a donation to help South Sudanese refugee school children who are being served by missionary, Carolyn Goodwin. If you want to help with this year's Jubilee you can:
TAKE A TAG
Visit the school bus in the lobby, take a few tags, and buy the listed supplies. We received a large donation of supplies from a ministry partner so we will not need several types of supplies we've asked for in prior years.
Drop off supplies in the circular bin in the lobby on Sunday or at the church office during the week by August 1 so they will be available when we stuff the backpacks.
DONATE MONEY
Donate money toward the purchase of supplies for our local kids. We will also make a donation to missionary Carolyn Goodwin's ministry for school children in Africa again this year. Place your donation in the offering plate, and be sure it is labelled "Jubilee School Partnerships."
VOLUNTEER
On the Day of the Jubilee
If you would like to serve at the Jubilee on August 10 we have jobs for people of all ages and abilities. Job assignments will be posted in the sanctuary lobby at least a week before the Jubilee.
Set Up for Jubilee
We need some people to help setup for the Jubilee on August 9. This will require lifting.
Help Prep on Tuesdays and Thursdays
You can help inventory, sort, count supplies etc. at our Jubilee workshops on Tuesdays and Thursdays from 9 a.m. to noon in the Missions and Outreach Team room behind the Mariposa Café. Workshops will be held on July 18, 23, 25, 30, and August 1.
Sign up to help with these jobs by filling out the Connect Card on Sunday or contacting Pastor Pam.