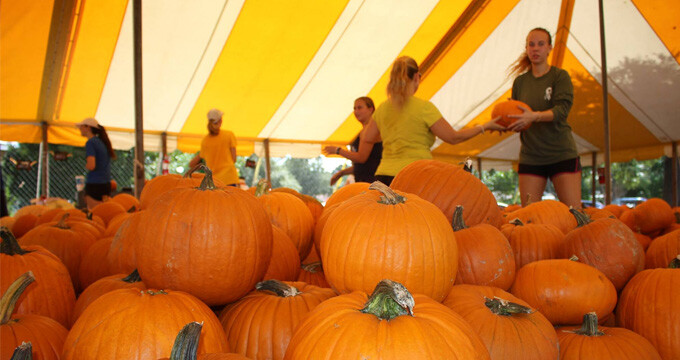 Help with Pumpkin Patch
In the past our pumpkin patch has been run by our Student Ministry, but this year will be different. All of the money raised at the pumpkin patch is going toward the church's budget, so we need the whole church to pitch in and help make the patch a success! We'll need the church's help with setting up the tent and unloading pumpkins, as well as taking shifts to run the patch throughout the month. Students will still be able to earn money in their student account to be used toward retreats etc. by taking shifts.
TENT SET-Up: Sept. 29
We need people to help put up the tent before the pumpkins arrive on Sunday, September 29 after 10:30 AM worship. Lunch will be provided. You can sign up to help on the Connect Card or send us an email.
PUMPKIN UNLOAD: Oct. 5
Help unload thousands of pumpkins from the semi-truck at 9 AM on October 5! Pizza will be provided. The more people help, the faster the unload goes and the more fun it is, so come and bring a few friends. Wear clothes that can get dirty and bring a reusable water bottle. Some people also bring gardening gloves. You can sign up to help on the Connect Card or send us an email.
Sign up for a Shift at the Patch
The patch will be open from Oct. 6 through the end of the month. Shifts on Sunday-Friday are 12-2 PM, 2-5 PM, and 5-8 PM. On Saturday we have an additional 9 AM-12 PM shift. That's a lot of shifts, and we need at least one adult at each one. You can sign up to take a shift at the patch on the board in the sanctuary lobby or sign up on our online form.