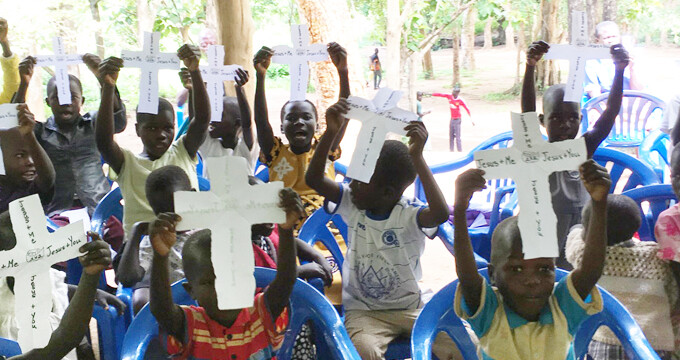 Sharing Christ in Uganda
Carolyn Goodwin, our missionary in Arua, Uganda is serving the South Sudanese refugees who have lost homes, jobs, family, friends and country. She has been leading biblically based "Healing from Trauma" workshops, leading Bible studies, doing outreach in the women's and children's prisons, helping the refugees in the camps, providing much needed blankets, and more.
The picture above is from a Sunday School lesson on Noah that Carolyn did with over 90 people. More than 25 asked Jesus into their heart that morning. They took children from Arua to a church in Ringly for the class, and so many wanted to come they couldn't all fit in the land cruiser. Carolyn didn't want to leave out anyone who was seeking God, so she arranged to do a second class for those who couldn't come. Eighty-five showed up for the second class, and again over 25 gave their life to Christ, including four Muslim women! What a great impact Carolyn is having by following the Lord's call!
If you would like to donate to help provide trauma worships, children's schooling, food, blankets, and other necessities in the refugee camps you can give online at TMS-Global.org/give. Use the name Carolyn Goodwin and the #3080.