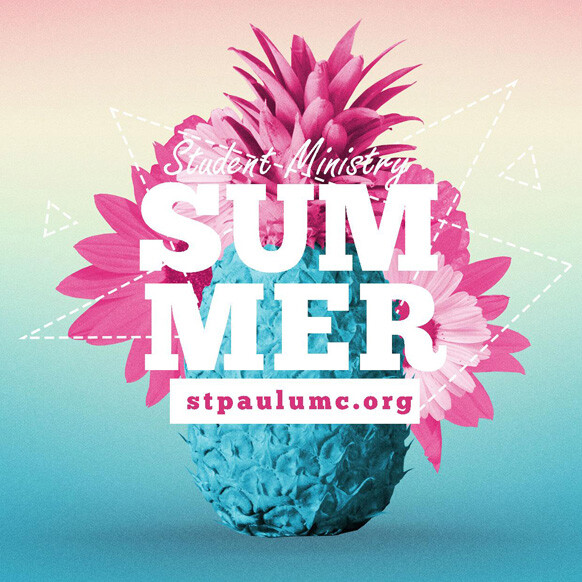 Summer Xplosion
We start the summer off with a bang!
May 31 - Lock in/lock out
May 31 at 6:30 PM - June 1 at 8 AM.
Cost: $25 + optional money for video games at Cici's
Meet at church for a worship session. The night will include a Threshers game, fireworks, Cici's Pizza and video games, bowling, and lots of fun games overnight at the church. Bring a friend!
*
june 2 - beach worship kick off
5-9:15 PM. Cost: $5
Meet at church and take the bus to Sand Key Park for dinner on the beach, worship and fun. Bring your suit, towel and a change of clothes for the ride home.
*
june 4 - TOP GOLF TUESDAY
8 AM- 2 PM.
Cost: $15 + lunch money ($10 if you have a Top Golf lifetime membership)
Meet at the church at 8 a.m. We'll have fun at Top Golf and Bass Pro. Lunch will be at Chick-Fil-A.
*
june 5 - high school
Rising 9th - High School Grads. 6 PM - 10:15 PM.
Cost: $7 + ice cream/arcade money
We'll have fun at Laser Ops Extreme Gaming with a choice of Archery Tag or Bazooka Ball (uses small Nerf balls instead of paintballs.) Arcade games are also available (bring extra money for arcade.) Afterward we'll stop for ice cream at Cold Stone Creamery.
Tribe Tuesday
Join us on Tuesday nights for a different fun activity every week.

June 18 - progressive dinner
5:30-9:15 PM. Cost: $5
Meet at church. We'll take the bus to different houses for appetizers, main course and dessert.
*
June 25 - DIY Wood Sign Workshop
6:30-9 PM. Cost: FREE
Event will be held at the church. Snacks provided.
*
July 2 - Independence Beach Bash at Sand Key Park
5:30 - 9:15 PM. Cost: $5
Meet at church at 5:30 p.m. Pick up at 9:15 p.m.
We'll have fried chicken for dinner. Bring your suit, towel and a change of clothes. You may also want to bring a chair or other items like footballs, skim boards etc.
*
July 9 - SKY ZONE
5:30-8:30 p.m. Cost: $15 ($17 includes pizza/drink)
*
July 16 - MOVIE NIGHT
6:30-9 p.m. Cost: FREE. Bring a dessert to share.
*
July 23 - st. pete shuffleboard club
6:30-9:30 p.m. Cost: $5
We'll meet at the church at 6 p.m. and play from 7-9 p.m. Pick up is at at 9:30 p.m.
*
july 30 - POOL PARTIES
Cost: $3 for food
Middle School: Austin and Taylor Smith's home
High School: Still looking for a home
*
August 6 - XTREME FUN CENTER
5:30-8:30 p.m. Cost: $12 for two games
Ways to Serve
Wednesday Serve
Students are invited to come to church each Wednesday from noon-5 p.m. to eat lunch, hang out and serve the K-5 kids at our Camp XP summer camp or help with preparing for the Back to School Jubilee. Bring a lunch.
June 19 and 26. July 3, 10, 17 and 24.
*
July 11-14
middle school MISSIONS TRIP
Cost: $100 due on May 19
Meet at church to leave at 2 p.m. on Thursday, July 11. We will return on Sunday, July 14. Pick-up is at 2:30 p.m. We will stay at Grace Covenant Presbyterian Church in Orlando.
On this trip we'll serve at 4 local organizations like United Against Poverty, Give Kids the World, Coalition for the Homeless and The Russell Home.
*
Aug. 10 - SERVE AT Back to School JUBILEE
Students help to distribute school supplies to hundreds of children.
Other Activities
June 9-15
TEEN VALLEY RANCH
*
June 28- June 29
River weekend
Open to students currently in 6th-12th grades. Cost: $25
Join us for tubing down the Ichetucknee River! Meet at the church at 5:30 p.m. on Friday, June 28. We'll eat dinner on the road, and worship when we arrive. We'll stay at the First UMC of Alachua (near Gainesville) and spend Saturday tubing from 8:30 a.m. to noon and then share a picnic lunch before return to the church by 6 p.m.
What to Bring: Sleeping bag, air mattress/cot, pillow, bathing suit (one piece for girls or t-shirt over two piece), towel, sunscreen, change of clothes for ride home, money for road meals, Bible.
If student HAS NOT been on a retreat with us this school year, a parental consent form is required.