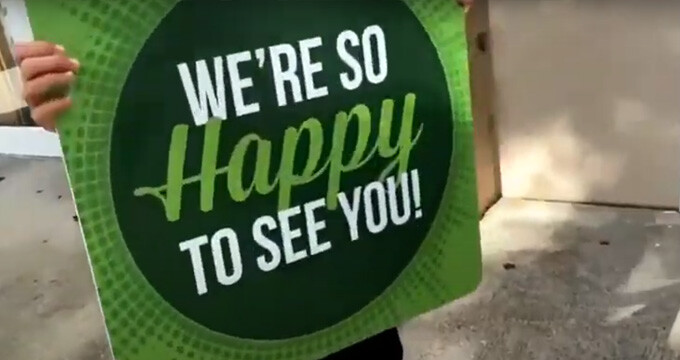 Return to Worship in the Building
As Pastor Pam announced during worship on Sunday, our Reopening Team has set a date for us to return to worship in the building on Sunday, September 13. We're excited to welcome back everyone who is ready to return to in person worship! We have missed seeing you during this time apart, and we are looking forward to beginning this new phase of worship! If you're not ready to worship in the building yet, we want you to wait until you are comfortable and feel safe. We invite you to continue worshiping with us online through our livestream site or on our Facebook and YouTube.
The return to worship in the building involves many changes to how we have worshiped in the past. A few major changes include:
We will be worshiping in the Christian Life Enrichment Center.
Our 10:30 worship will move to 11 AM to allow us more time to clean between worship times. 9 AM worship will remain at the same time, but we suggest you arrive early since it will take a bit longer to check everyone in and get them seated.
We will be following social distancing guidelines and requiring masks inside the building.
Our worship leaders will speak and sing, but the rest of us will praise God through humming, dancing, lifting our hands, etc.
Seating will be limited due to social distancing, so you will need to RSVP to guarantee a seat in worship. RSVP for Sept. 13 will be available starting next Sunday Sept. 6, and we will send out an email with more info and the link to the RSVP form when it is active. You will also be able to find the RSVP link on our website and app. Click here for more info about how RSVPing will work.
When you arrive, you will be checked in and seated by ushers rather than seating yourselves. The process will be similar to what you would experience at a restaurant. This will allow us to fill as many seats as possible, while still maintaining social distancing. Ushers will also dismiss us by rows at the end of worship so we can social distance on our way out of the building.
A separate Children's Ministry and nursery will not be available when we first return. Children are invited to worship with their families.
For a complete list of all our return to worship guidelines, click here. Please take a moment to review these guidelines so you know what to expect when you join us in the building.
If you'd like to serve on Sundays when we return, please register for our Sunday Morning Team Training on Wednesday, Sept. 9 from 6-8 PM. Click here for more info.
This remains a fluid situation with lots of challenges, and we ask for your patience and grace as we figure things out together. We have a strong plan in place, but we will continue to make changes to improve your worship experience and keep everyone safe. We will also continue to monitor cases in our area and respond to changes in our local situation. Your safety remains our number one priority and all our decisions as we go forward will be based on keeping our St. Paul family as safe as possible when we worship together.
If you have any questions or concerns, let us know. We are looking forward to seeing your smiles behind your masks and praising God with you in the CLEC starting Sept. 13!