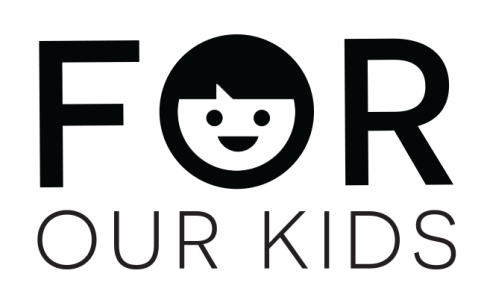 At St. Paul UMC we're FOR our community and FOR our kids. We partner with schools to support students (and teachers!) in meaningful ways throughout the year.
Jumpstart
Our after school program offers free tutoring, mentoring, dinner, and fun activities to Largo Middle School students on Tuesdays. Find out more.
Pack-a-Sack
Every week we pack meals for 15 kids. These meals ensure chronically hungry children have something to eat on the weekends when school lunch isn't available.
Supply Drives
This year we're working directly with Frontier Elementary to provide needed school supplies and with Ponce De Leon Elementary to help provide uniforms. Working with the schools directly allows us to reach more kids and provide exactly what they need.
School Events
We plan to attend and help with school events throughout the year such as back to school events, open houses, STEM nights, meet the teacher and more. These events give us a chance to help the schools, and introduce St. Paul and our ministries to new families.
Teacher and Staff Appreciation
We're FOR our schools and FOR our teachers! During teacher appreciation week, we provide treats, cards and other tokens of thanks to let staff know we're grateful for all they do.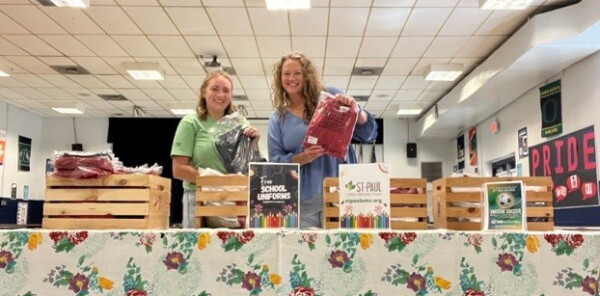 OUR PARTNER SCHOOLS
We're currently partnering with:
Ponce De Leon Elementary
Frontier Elementary
Largo Middle
Largo High School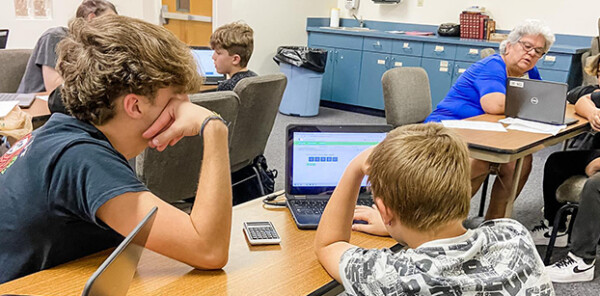 HOW YOU CAN HELP
We have several opportunities in the next couple months for you to get involved! Make donations from the lists provided, or sign up on the form below to volunteer!
JULY - SUPPLY DRIVE & UNIFORMS FUNDRAISER
Thank you for helping us collect supplies for our partner schools! We'll be distributing the supplies at Frontier and Ponce De Leon Elementary during their back to school nights this August!
AUGUST - DONATE TO PACK-A-SACK
We're collecting food for Pack-a-Sack during August. Pack-a-Sack provides food to food insecure children on the weekends when school lunches aren't available. See the list below of specific items needed. We'll be collecting food throughout the month of August so drop off any of these items in the cart on Sundays or at the church office during the week.
Granola Bars
Vienna Sausage with pull-top lids
Canned single serve chili with pop top lids
Canned single serve beefaroni with pop top lids
Microwave individual size mac and cheese cups
Individual sized breakfast cereals
Individual boxes of raisins or craisins
4-6-8 or 12 packs of fruit cocktail, peaches, or applesauce
4-6-8 or 12 packs of ready-to-eat pudding
Peanut butter or cheese crackers in 6-cracker packs
Apple juice boxes
Caprisun Juiceboxes
SEPTEMBER - SERVE THROUGH JUMPSTART
Our after school program for middle school kids resumes in September. We need high schoolers to volunteer as tutors. We also need adults to:
Supervise tutoring and games
Help with cooking and serving
Mentor students
Visit our Jumpstart Volunteers page for more info or to sign up to help!
SIGN UP TO VOLUNTEER
Fill out the form below to let us know you're interested in being on the FOR Our Kids Team. We need volunteers to help with school events, with organizing and delivering school supplies, with our after school program and with putting together and delivering teacher appreciation gifts next year. You don't need to serve in all areas to be on the team!