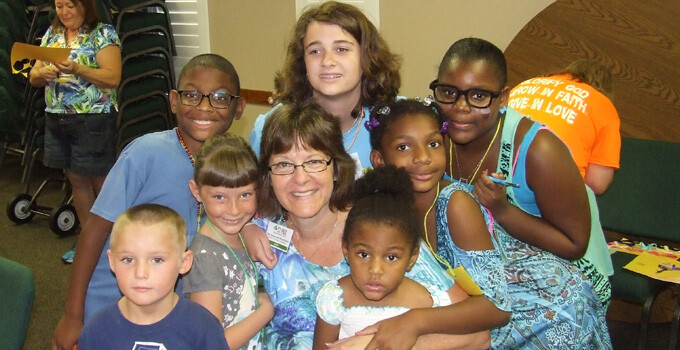 Back to School Jubilee
Preparations are underway for the Back to School Jubilee on Saturday, August 7. Each year, with your help, we distribute school supplies, backpacks and more to pre-registered children in our community. This is a chance to cover the kids and families who attend with love and get them started out on the right foot for the school year. If you want to help with this year's Jubilee you can:
DONATE SUPPLIES
We are still in need of the following supplies. New items are bolded:
Composition books – college ruled
College ruled loose-leaf paper
2 inch 3 ring binders
Fat highlighters
Crayola colored markers
Dry erase markers
You can drop off supplies for the Jubilee in the donation bin on Sunday or at the church office Mon-Thurs from 9 AM to 4 PM.
Make a monetary donation. If you'd like to donate supplies but don't have time to shop for them, you can make a donation marked "Jubilee School Partnerships" and we will use your donation to buy supplies. You can give online, drop a donation in the offering boxes on Sunday, or send us a check (1498 Rosery Road NE. Largo, FL 33770).
VOLUNTEER
We need volunteers to help with Jubilee prep and set-up, and we especially need people for the day of the Jubilee on Saturday, August 7.
Jubilee Prep and Backpack Stuffing
On Tuesday and Wednesday mornings from 9:30 to 11:30 AM volunteers help to unpack and sort supplies. We will be working on July 14, July 20, July 27 and 28.
Backpack Stuffing - August 3 and 4
On the last Tuesday and Wednesday mornings before the event, we will be stuffing the backpacks with the supplies needed for each age group.
Jubilee Day - August 7
The event will be held from 10 AM to noon on Saturday, August 7. Volunteers are needed for registration, to hand out supplies, and more. Volunteers will be asked to arrive at the CLEC early for any last minute instructions and preparation.
Use the form below to sign up if you would like to volunteer. Pastor Pam will reach out to you with instructions and assignments.