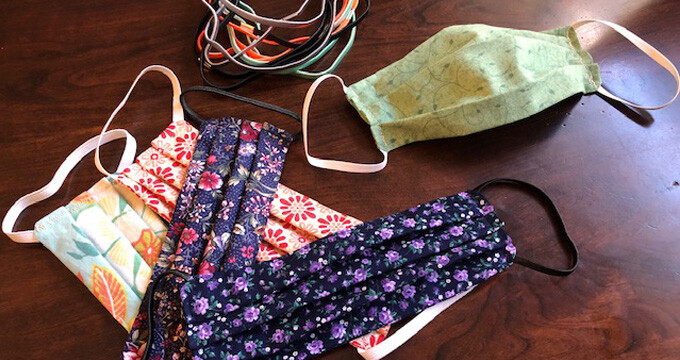 Help Make Face Masks
UPDATE: May 4, 2020
Our seamstresses made 856 masks in about a month! Masks went to Morton Plant Labor & delivery, ER, and ICU; Mease ER and ICU, St. Anthony's, St. Pete General, Bay Pines VA Generic floor, and various urgent cares, schools, and nursing homes! Thank you Connie, Beverly, Donna, Lewelyn, Sandy, Edwina, Judy, Alberta and Kathy for all your amazing work!
We also received a $250 donation which will be used to buy disposable masks for St. Paul to use for our attendees once we open up again.

We will not be collecting any more masks for delivery to area hospitals, but if you are willing to make more, the congregation will need them once we start meeting again. You can keep them at your home until we have a return to church date.
For information about making masks contact Kathy Carr at 727-781-8195 or
*
You can find instructions below, or download a PDF of the instructions for printing.
How to make a Face Mask
What You Will Need
Cotton fabric, a pretty print is best. JoAnn Fabrics has pre-packaged fabric for making masks at the front of the store that you can pick up at NO charge!
If you already have rope elastic you can use this to make the masks y cutting it 7 inches long and knotting the ends. Elastic is sold out in most stores so we're recommending that you use headwraps like the ones pictured at left as an alternative. Cut the headwrap so it is one long piece of elastic and don't knot the ends.
How to Sew the Mask
You can make two sizes: Adult or Child. Put right sides of cotton fabric together. Cut 9x6 (Adult) or 7.5x5 (Child). Be sure any fabric design is placed horizontally.
Starting at the center of the bottom edge, sew to the first corner, stop. Sew the wrap (or elastic) with the edge out into the corner. A few stitches forward and back will hold this.
Sew to the next corner, stop, and bring the other end of the wrap (or elastic) to the corner and sew a few stitches forward and back.
Now sew across that top of the mask to the next corner. Again put a wrap/elastic with the edge out.
Sew to the next corner and sew in the other end of the same wrap.
Sew across the bottom leaving about 1.5" to 2" open. Stop, cut the thread. Turn inside out.
Pin 3 tucks on each side of the mask. Make sure the tucks are the same direction
Sew around the edge of the mask twice. It is so easy to make this.