How to Reserve Your Seat For Worship
Due to social distancing requirements, we have a limited number of seats available for worship. To ensure that we have a seat for you on Sunday, we ask that you RSVP online in advance. It's an easy process that only takes a minute.
Visit the RSVP link on our website or app.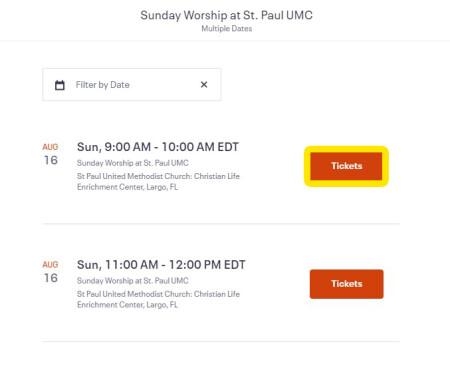 Choose which worship service you want to attend. Each Sunday's RSVP page will open the Sunday before, so you'll have a week to reserve your seat. But don't wait too long. Seats are first come, first served!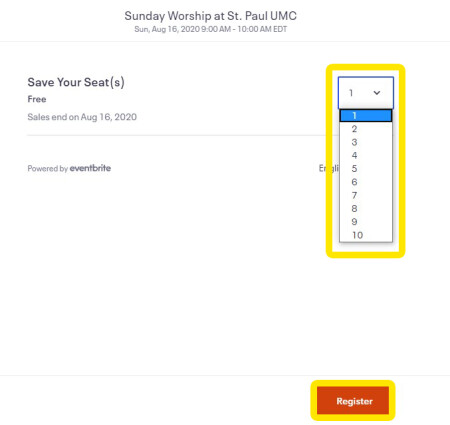 Enter the number of people in your household who will attend and click Register. Be sure to enter the total number of people you are reserving seats for, including yourself. Those who live in the same household will be able to sit next to each other. Those who live in different households will be seated 6 feet apart.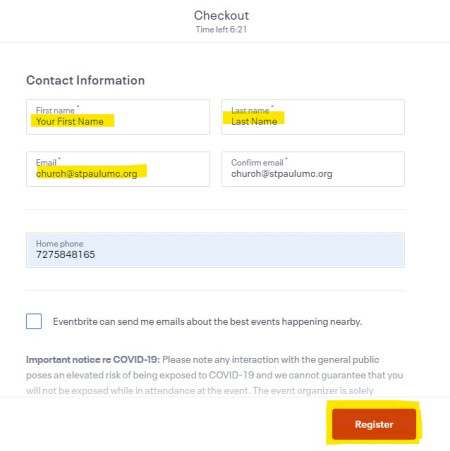 Enter the name you'll use to check in. Our ushers will check in you and your other household members on Sunday using the name you enter into the form. If you have reserved 3 seats they will all be listed under this name. You will also receive an email confirmation at the email you enter here.
Hit the Register Button and you're done. You'll see a thank you page, and you'll also receive a confirmation email.
*
Note: If we reach capacity with RSVPs the Eventbrite registration page will automatically close registration, and you will see a message that we have filled all our seats.
What happens on Sunday?
You've RSVPed for worship, now what? On Sunday, you'll give your name to an usher. They'll check you in and seat you. Seats will be assigned by the ushers so we can make the best use of our limited seating, so please sit where they place you.
I rsvped, but now i can't attend. what do i do?
If your plans change and you are no longer able to attend worship, please cancel your reservation to make your seat available for someone else. To cancel you can click the link near the bottom of the confirmation email that says "View or edit your order." Or you can login in to Eventbrite and view your tickets. After you click on your worship ticket, you should see a button on the left that you can use to cancel your order.
You can also email us or call 727-584-8165 by Thursday to cancel. The office is closed Friday and Saturday so cancel by phone is not available after Thursday at 5 PM.
What IF I FORGET TO RSVP?
If there are extra seats and RSVPs have not filled the room, we will seat you on Sunday. However, if you do not RSVP you're not guaranteed a seat. If we are at capacity through RSVPs, you are welcome to wait and see if we have no shows, but you may miss the beginning of worship. We strongly encourage you to RSVP in advance to guarantee that you will have a seat
.
I don't have a way to register online
If you don't have the technology needed to RSVP online, you can reserve your seat by calling 727-584-8165. You will be added to the list and checked in by our ushers on Sunday just like online RSVPs. RSVP by phone is only available from Monday through Thursday. If you call after our office closes on Thursday at 5 PM, we will not receive your RSVP.
If you have a computer, smart phone or other way to register online, we ask that you please use the online system. It will be faster for you and save time for our staff as well. You can make online reservations right up until worship time, or until we run out of seats.
What IF IT's MY FIRST TIME AT ST. PAUL?
We will have some reserved seats specifically for first time visitors, so we can continue to welcome new people to St. Paul. If you're new you can visit the Connection Center tent with any questions you have, or let an usher know you're visiting. They will be happy to register you and seat you.
IF I'm SERVING On sunday do i have to rsvp?
If you plan to be in worship after you serve on Sunday, you do need to RSVP. Those who have jobs that don't allow them to participate in worship or those who plan to leave after helping do not need to RSVP, but if you will be using a seat during worship, we need you to reserve it. Thank you for helping us keep an accurate count!