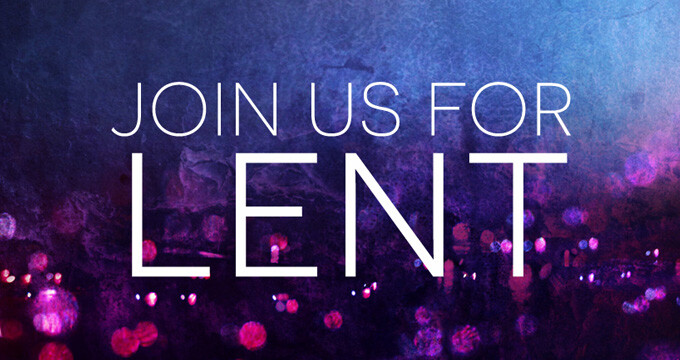 Lent at St. Paul
A SEASON OF PRAYER
Lent is the period of 40 days leading up to Easter. It's a time for Christians to commit to a season of focus on God through things like reflection, prayer, fasting and giving. During the season of Lent, we invite you to join us for a Season of Prayer. The Prayer Room (Room 210 across from Student Room) will be open on Sunday mornings as well as during office hours Monday-Thursday from 9 AM to 4 PM, starting Sunday, Feb. 26. Each week we will offer a new prayer focus based on scripture to help guide you in your prayer time during your Lenten journey. Some weeks we will invite you to take part in hands on prayer time activities that will deepen your connection with God and the St. Paul community. You are also encouraged to bring whatever is on your heart to the Lord. We invite you to pray individually, or join with your small group, family, friends, Bible study etc. in corporate prayer. Please enter on the office side of the building and check in if you're using the Prayer Room during the week.
If you're not able to physically join us in the Prayer Room, we encourage you to set aside time each week to pray wherever you're able. We'll share each week's prayer guide on our website. You can also find it on our app.
LENTEN WORSHIP TIMES
Some Lenten worship services are also available online. Childcare is available at all of our Lenten worship times.
Ash Wednesday
February 22 at 6:30 PM
Join us for Ash Wednesday worship this Wednesday, February 22 at 6:30 PM. We'll receive ashes and begin our Lenten journey as we prepare our hearts and minds to draw closer to God. Our Handicapable friends who normally worship on Wednesday evenings will also be joining us. Children are invited to learn about Ash Wednesday in Worship Arts, and will join us in the worship center when it's time to receive ashes.
This service will be both in person and online.

Palm Sunday
April 2 at 9 and 11 AM
Celebrate Jesus' triumphant entrance into Jerusalem on Palm Sunday. This service will be both in person and online.
At 9 AM our choir will present a cantata "Calvary's Love" that offers an inspiring reminder of the gifts of love and life that are ours because of the price Jesus paid at Calvary. Be encouraged by this musical telling of the timeless message of God's sacrifice and love through Jesus! There will be no message at 9 AM.
At 11 AM our band will lead worship and Pastor Don will share a Palm Sunday message.


Maundy Thursday
April 6 at 6:30 PM
Join us for hymns and communion on Maundy Thursday. This service will be available both in person and online.

Good Friday
April 7: Come any time between 6-7:30 PM
On Good Friday we invite you to join us for a special sensory worship experience that will highlight 12 moments in the last day of Jesus' life. We hope this will bring Jesus' sacrifice into focus and help you to feel the depths of his love for you. You are welcome to come any time between 6-7:30 PM and go through the experience at your own pace.
Because this is a worship experience, Good Friday will be in person only. We will not have an online livestream.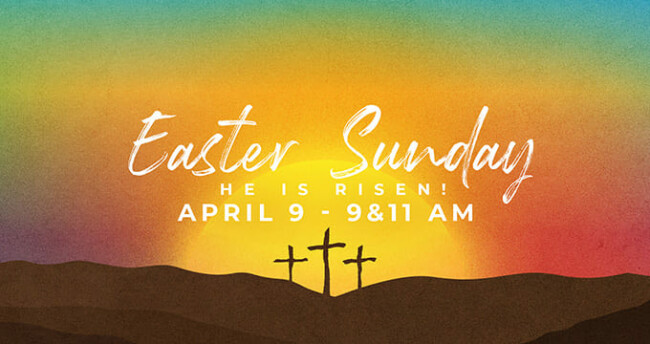 Easter Sunday
April 17 at 9 and 11 AM
Our Lord is alive! Celebrate with us at both worship times, and invite a friend to join us on this joyful day of praise.
Don't forget to place a flower on the cross as you enter worship. You can bring your own, or use the flowers provided!
*
Online worship (except on Good Friday) will be available on our usual Sunday morning streaming platforms.
Website | Facebook | YouTube