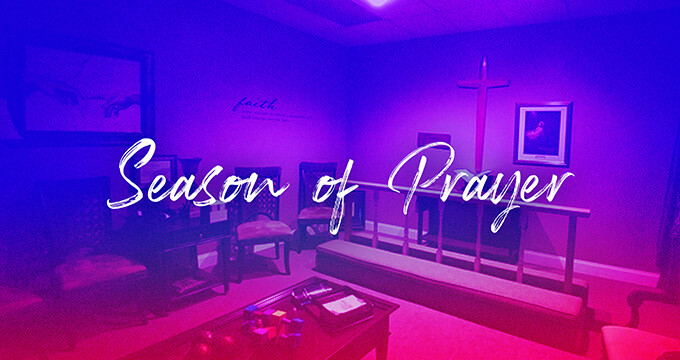 Season of Prayer
During the season of Lent, we invite you to join us for a Season of Prayer. The Prayer Room (Room 210 across from Student Room) will be open on Sunday mornings as well as during office hours Monday-Thursday from 9 AM to 4 PM, starting Sunday, Feb. 26. Each week we will offer a new prayer focus based on scripture to help guide you in your prayer time during your Lenten journey. Some weeks we will invite you to take part in hands on prayer time activities that will deepen your connection with God and the St. Paul community. You are also encouraged to bring whatever is on your heart to the Lord. We invite you to pray individually, or join with your small group, family, friends, Bible study etc. in corporate prayer. Please enter on the office side of the building and check in if you're using the Prayer Room during the week.
If you're not able to physically join us in the Prayer Room, we encourage you to set aside time each week to pray wherever you're able. We'll share each week's prayer guide here and on our app.
Week 4
The season of Lent is a perfect time to work on developing qualities of compassion, kindness, humility, gentleness and patience. These are all attributes demonstrated by Jesus during his ministry on earth. We can develop these characteristics through prayer, persistent effort, honest self-evaluation, and in the company of fellow Christ-followers who love us enough to speak the truth and hold us accountable when we stray.
Read Colossians 3:12-17
"Therefore, as God's chosen people, holy and dearly loved, clothe yourselves with compassion, kindness, humility, gentleness and patience. Bear with each other and forgive one another if any of you has a grievance against someone. Forgive as the Lord forgave you. And over all these virtues put on love, which binds them all together in perfect unity. Let the peace of Christ rule in your hearts, since as members of one body you were called to peace. And be thankful. Let the message of Christ dwell among you richly as you teach and admonish one another with all wisdom through psalms, hymns, and songs from the Spirit, singing to God with gratitude in your hearts. And whatever you do, whether in word or deed, do it all in the name of the Lord Jesus, giving thanks to God the Father through him."
Meditation & Response
Pray a prayer of thanksgiving to God for the example of Jesus. Select one godly quality that you struggle to embody and write it down. Think about ways you can strive to get closer to that quality, and write those down as well. For the remainder of the Lenten season, begin each day with a short prayer asking God to help you follow the example of Jesus and cultivate that quality you struggle with until it becomes second nature.
WEEK 3
Our culture teaches us to admire qualities of self-reliance and independence. As a result, we try to control our lives without asking God whether our plans are aligned with His perfect plans for us. Do you find yourself trying to solve life's problems in your own strength? Do you charge ahead, set your own course, and then ask God to bless what you have already begun to do? It is hard to give up control. It is hard to subordinate our own longing to be self-reliant in favor of being "God-reliant."
Read Psalm 62:5-12 NIV
"Yes, my soul, find rest in God; my hope comes from him. Truly he is my rock and my salvation; he is my fortress, I will not be shaken. My salvation and my honor depend on God; he is my mighty rock, my refuge. Trust in him at all times, you people; pour out your hearts to him, for God is our refuge. Surely the lowborn are but a breath, the highborn are but a lie. If weighed on a balance, they are nothing; together they are only a breath. Do not trust in extortion or put vain hope in stolen goods; though your riches increase, do not set your heart on them. One thing God has spoken, two things I have heard: "Power belongs to you, God, and with you, Lord, is unfailing love"; and, "You reward everyone according to what they have done."
Meditation
The psalmist reminds us that our hope and rest come from God, and that we are to pour our hearts out to God and place our trust in his unfailing love. Is there a situation, problem, or relationship that you refuse to entrust to God?
Response
Pray for forgiveness for relying on your own strength. Ask the Holy Spirit to help you let go of whatever you have failed to trust to God. Take some quiet time to listen. Make space for God's guidance and allow him to give you peace. If you are ready to commit to trusting him with what you have been holding back, write I Trust God on the whiteboard in the Prayer Room or somewhere you will be able to see it all week.
WEEK 2
Unconfessed sin hinders our ability to heal old wounds and reconcile with those who we have harmed. Scriptures teach us that lust, gluttony, greed, sloth, wrath, envy, and pride are damaging to our relationship with God and other people. Confessing our sins and asking for forgiveness clears the way for us to draw closer in a reconciled relationship with God.
Read Psalm 51:1-12 NIV
"Have mercy on me, O God, according to your unfailing love; according to your great compassion blot out my transgressions. Wash away all my iniquity and cleanse me from my sin. For I know my transgressions, and my sin is always before me. Against you, you only, have I sinned and done what is evil in your sight; so you are right in your verdict and justified when you judge. Surely I was sinful at birth, sinful from the time my mother conceived me. Yet you desired faithfulness even in the womb; you taught me wisdom in that secret place. Cleanse me with hyssop, and I will be clean; wash me, and I will be whiter than snow. Let me hear joy and gladness; let the bones you have crushed rejoice. Hide your face from my sins and blot out all my iniquity. Create in me a pure heart, O God, and renew a steadfast spirit within me. Do not cast me from your presence or take your Holy Spirit from me. Restore to me the joy of your salvation and grant me a willing spirit, to sustain me."
Reflection
In this Psalm David acknowledges that his terrible actions toward other people were sins against God. The Psalm reads like a prayer of confession and teaches us about the attitudes of repentance and humility we should demonstrate before God when we confess in our prayers.
Response
If you are burdened by an unconfessed sin, take a rock and hold it in your hands while praying through Psalm 51 just as King David did. We have rocks provided in the Prayer Room, or you can use one you find yourself. Once you have reflected, ask God for a pure heart. Let go of your sin by placing the rock and your confessed sin at the foot of the cross on the table in the Prayer Room. If you are praying at home or in another location, find a place to put your rock outside as you place your sin at God's feet.
WEEK 1
As our journey through Lent begins do you find yourself in a time of overwhelming busyness or are you like the Psalmist in the scripture below, who earnestly seeks and longs for God? So often we fill our time and our hearts by pursuing approval, money, power and success. Let this season of Lent be a time to focus your attention on earnestly seeking God in all things, at all times. Open your heart to receive God's love and grace. Use this time of devotion to allow your relationship with God to grow in intimacy.
Read Psalm 63:1-8 NIV
"You, God, are my God, earnestly I seek you; I thirst for you, my whole being longs for you, in a dry and parched land where there is no water. I have seen you in the sanctuary and beheld your power and your glory. Because your love is better than life, my lips will glorify you. I will praise you as long as I live, and in your name I will lift up my hands. I will be fully satisfied as with the richest of foods; with singing lips my mouth will praise you. On my bed I remember you; I think of you through the watches of the night. Because you are my help, I sing in the shadow of your wings. I cling to you; your right hand upholds me."
Meditation
Tell God about the dry and parched places in your soul and open yourself to having God quench your thirst. Identify a time when you have seen God acting in your life and thank him for the love and grace you receive each day.
Activity
Write down some ideas of ways you can open yourself and your time to God this season of Lent. You can post them on the whiteboard in the Prayer Room, or keep them to reflect and remind yourself to do these things throughout the season of Lent. If you have social media, post a picture of something that represents how you will open yourself to God and share it on social media with the tag #LentStPaul.