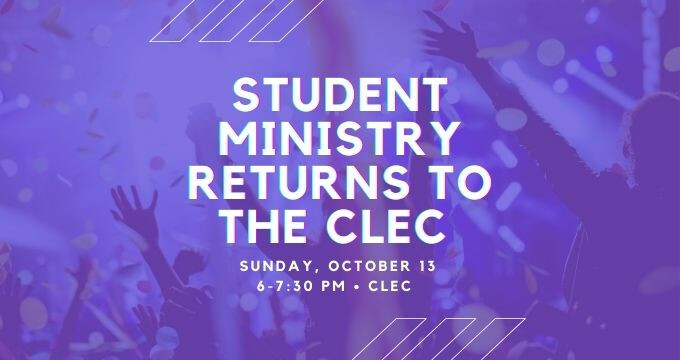 Students Return to the Building
Student Ministry returns to the building on Sunday, Oct. 18!
We're so excited to see you and to spend time worshiping God and having fun together! We do have a few changes to our Sunday gatherings while we are following COVID restrictions.
As of right now, we will not be having dinner together.
Our time together will be 6-7:30 PM. That includes games, worship through music, teaching and small groups.
We'll be using the Gym, Fellowship Hall, and Student Room areas for the Christian Life Enrichment Center depending on activities.
OUR CURRENT SERIES
Complicated. Long. Conflicting. Outdated. Contradictory. When it comes to the Bible, you've probably heard all that and more from your students. That's because, for so many of them, the Bible just seems to cause more confusion than clarity. High school is a great time for students to ask questions, express doubts, and wrestle with what they believe in order to develop a personal faith. And maybe nothing brings up more of these types of faith questions than the Bible. What is it? How does it work? And why does everybody say it's helpful when it doesn't always feel that way? That's why, in this series we'll take a closer look at the documents that make up the Bible, why we trust them, how we use them and why we believe they can be trusted. In other words, we're talking about the Bible…explained.
10/4 - The point of the Bible is to know God better.
10/11 - Context creates clarity.
10/18 - When it comes to the Bible, we read it because God is in it.
10/25 - The Bible brings things to light.
Safety and Social Distancing Guidelines
Anyone who is sick, coughing, has a sore throat, or a fever is asked to remain home.
We will use no-touch thermometers to take everyone's temperatures as they enter. Anyone with a temperature of 100.4 or higher will need to return home and connect with us online.
A cloth or disposable mask is required while inside the building. If you don't have a mask, we'll provide one to you.
Hand sanitizer dispensers are located throughout the building. Please sanitize your hands as you enter.
Individuals or family groups will maintain social distancing inside the building.
Seating will keep 6 feet of distance between household/family groups.
We will greet each other with smiles and waves that maintain 6 feet of social distancing.
Areas of the building we use for Student Ministry will be wiped down and sanitized before and after each gathering.
We hope you'll join us in the CLEC starting Sunday, Oct. 18! See you then!