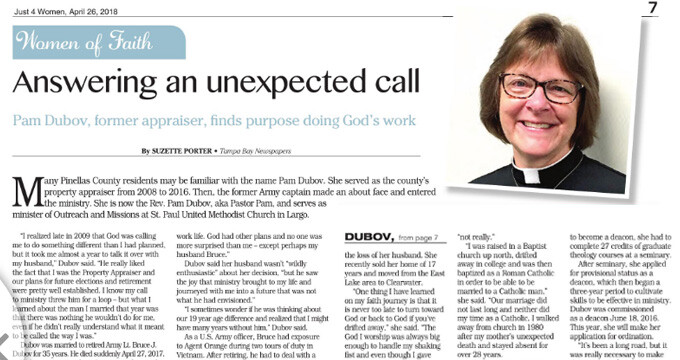 TBNWeekly Article on Pastor Pam
TBNWeekly shared Pastor Pam's story of faith in an article about following God's call and how it affected her life.
Former Pinellas property appraiser answering an unexpected call
By SUZETTE PORTER, Tampa Bay Newspapers | Apr 25, 2018
Many Pinellas County residents may be familiar with the name Pam Dubov. She served as the county's property appraiser from 2008 to 2016.
Then, the former Army captain made an about face and entered the ministry. She is now the Rev. Pam Dubov, aka Pastor Pam, and serves as minister of Outreach and Missions at St. Paul United Methodist Church in Largo.
"I realized late in 2009 that God was calling me to do something different than I had planned, but it took me almost a year to talk it over with my husband," Dubov said. "He really liked the fact that I was the Property Appraiser and our plans for future elections and retirement were pretty well established. I know my call to ministry threw him for a loop – but what I learned about the man I married that year was that there was nothing he wouldn't do for me, even if he didn't really understand what it meant to be called the way I was."