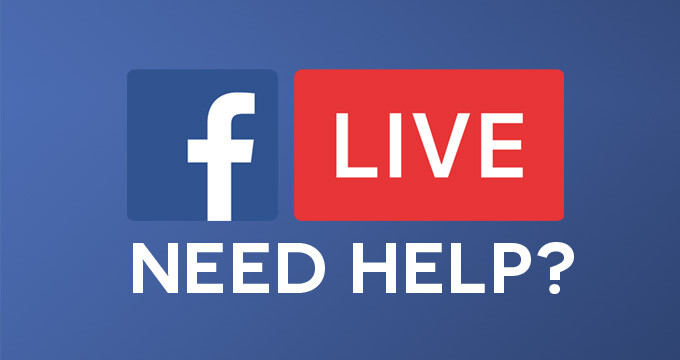 Troubleshooting Facebook Live
In addition to our regular worship livestream at 9 and 11 AM we've been streaming our Sunday worship on Facebook Live. We are also doing a Facebook Live with Pastor Bob each week on Wednesday at 1. If you've had trouble finding the live streams on Facebook, here are a few helpful hints.
Places to find our Facebook Lives
http://www.facebook.com/stpaulumclargo
When you visit our Facebook page during a live broadcast, you should see a "Live" tag on the left hand side by videos. You should also be able to see the video when you scroll past the photos and reviews at the top of the page.
https://www.facebook.com/StPaulUMCLargo/live/
If you aren't able to see the live broadcasts on the main facebook page, try going to our "Live" page linked above. It always shows our old live videos, but also shows upcoming live videos when we have something scheduled. When we go live the live video will play at the top of the page. Click on the video if you want to enter the chat.
If you are visiting on Sunday morning or on Wednesday at 1 and you don't see the live video, you are probably early. Try reloading the page a few moments later by clicking the cirlce/arrow icon at the top of your internet browser.
RECEIVE NOTIFICATIONS
If you want to receive notifications when we schedule a live post or when we go live, check the top right of one of our live videos. See highlighted section below.
Make sure that you are "Following." If you aren't, then click on the button to follow us. Next to the follow button there is a "bell" icon. Click on that and make sure that "ALL" is selected. If you're following us and have selected all notifications then you should receive a notification when we go live.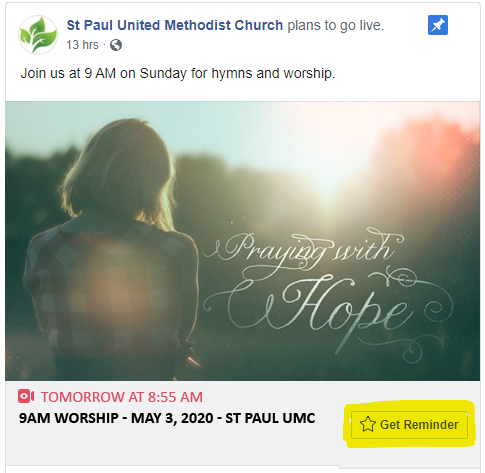 You can also click the Get Reminder button like the one highlighted above when you see that we've scheduled a live post.
RELOAD PAGE
If we've scheduled a live in advance then you will see a countdown on the scheduled post (which will look like the post above but could have a different image). The countdown begins three minutes before we go live, and it will create a link to the live automatically.
However, we have been doing our Wednesdays at 1 without scheduling in advance. If you load the Facebook page before we go live, the page won't automatically load the stream, so if you don't see the live on our facebook or on the live page, be sure to manually reload the page closer to the scheduled live time.
IF YOU can't watch sunday worship on facebook
Our 9 and 11 AM worship is always available by clicking the links on our website or app. You can find our stream by clicking here.
IF YOU MISSED A FACEBOOK LIVE
If you missed a Facebook Live the recording will be posted on our Facebook. You can also find past live videos by visiting our Facebook Live page: https://www.facebook.com/StPaulUMCLargo/live/
Notes, challenge questions and links to each week's Wednesday at 1 are also posted in our free app.
STILL HAVE QUESTIONS?
If you're still having trouble with Facebook Live, send us an email and we'll try to help.