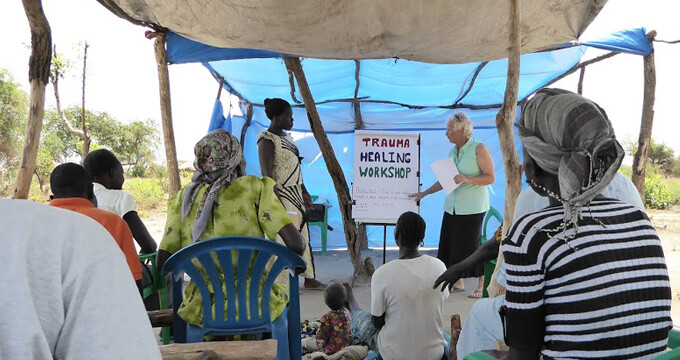 Update from Carolyn Goodwin in Uganda
St. Paul member, Carolyn Goodwin, is serving as a missionary to South Sudanese refugees in Uganda. Here is an email update she recently shared.
Here in Uganda things are going well. This journey is so much more than I ever imagined it could be. Praise the Lord He has led, guided, protected, and comforted me every step. Your support has accomplished so much over the past few months: School fees paid for several children, blankets to over 200 who did not have one, Bibles distributed to many new believers, Sunday School to over 300 children, and Trauma Healing Workshops done Saturdays with 75 - 150 people. You also helped get each of the children in Koboko a metal box with a lock - their only piece of privacy. Thank you so much for all you do! Your prayers and financial support are making this happen.
We are still working to supply the remaining 21 children in Rhino camp with metal boxes. (Each box costs about $12 USD, or a total of $252 for all the remaining children.) We are also trying to supply all 36 children with backpacks, but particularly the 15 Koboko kids. We can get a decent backpack here for approximately $10 USD.
If you feel led to support the journey with Jesus in Uganda:
Go to the TMS-Global website and click on the donate button. Enter the number 3080 to give a secure, tax deductible donation. If you would like to donate to one of the special needs such as a metal box or backpack designate your donation as a "special project".
My home team will also have a booth at the UMW's Arts and Crafts Show on Sat. Oct. 14. 100% of the proceeds of the booth will go to support the ministries here in South Sudan and Uganda.
Love and Blessings,
Carolyn