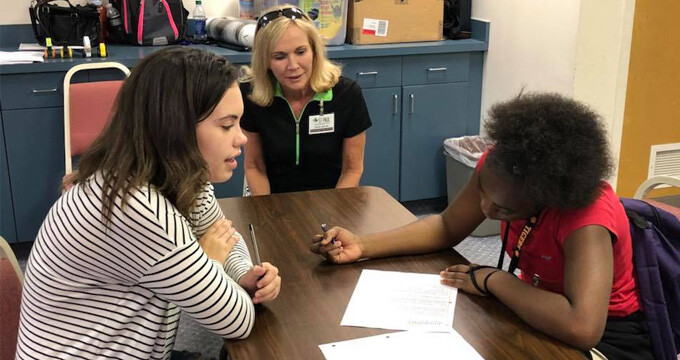 Volunteers Needed for After School Program
Jumpstart is our middle school mentoring ministry for the students of Largo Middle School. The program offers students extra encouragement and tutoring in a safe environment.
We're looking for volunteers to act as adult supervisors or help cook meals, and high school students to act as tutors.
Training Schedule
New Tutor Training: Tuesday, September 12. 3:30-4:30 PM
New Supervisor Training: Tuesday, September 12. 5-6 PM
Team Building for All Tutors and Supervisors: Tuesday, September 19. 4:30-6 PM
Program Start: Tuesday, September 26
Adult Supervisors
The Adult Supervisor's role is to oversee high school tutors, middle school students and to interact with both. Adults will not need to tutor, so an education background is not required. Supervisors help by oversee a classroom to provide a safe and friendly atmosphere, and to make sure students and tutors are on task and that we're providing a productive work environment.
Schedule: Volunteers help from 4:15-6 PM. We have a volunteer meeting from 4:15-4:30, and then middle school students arrive at 4:40. They have a snack and play a short game, then receive tutoring from 5-6 PM.
HELP MAKE A MEAL
We feed around 30 people at Jumpstart each Tuesday. We're looking for volunteers and groups to provide main dishes and possibly sides. Sunday school classes, small groups and other groups can work together to cover a meal! Meals can be things like a taco bar, ham and cheese sliders, baked ziti, spaghetti and meatballs, BBQ chicken sandwiches, chicken and rice dishes, etc. The church provides salad and dessert.
There are several flexible ways for your group or family to help.
Cook the meal at the church using our industrial kitchen
Prepare food at home using crock pots, your own serving dishes, or aluminum foil disposable containers WE PROVIDE.
You prep the meal and we'll cook it on Tuesday evenings.
You can donate food or be reimbursed by the church.
Several of the meals are being covered by Martha's Loving Hearts and we serve pizzas on the last Tuesday of very month so we just need to fill these dates for the first half of the school year. Would your group be able to help with one of them?
October 3

October 17

November 7

December 5

January 9

January 23
Interested in learning more?
HIGH SCHOOL TUTORS
High school students can earn volunteer hours by serving as tutors. Students interested in tutoring should fill out the online application below.
If you have questions about Jumpstart or about serving, contact our Student Ministry Director, Alison Van Duyne.