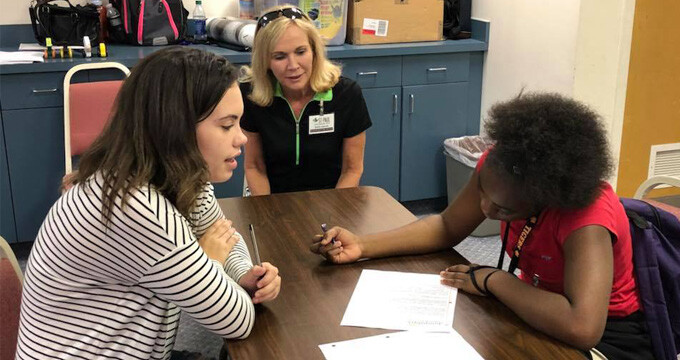 Volunteers Needed for After School Program
Jumpstart is our middle school mentoring ministry for the students of Largo Middle School. The program offers students extra encouragement and tutoring in a safe environment.
We're looking for volunteers to fill the following roles:
Adult Supervisors
The Adult Supervisor's role is to oversee high school tutors, middle school students and to interact with both. An education background is not required, just a willingness to get to know students and to help where they can. We also need adults to help serve dinner and clean up, and to oversee games and recreation in the gym.
Commitment:
Volunteer on Tuesday afternoon/evenings from 4:00-7:30 PM. We'd like adults to serve at least two times per month.
High school tutors
Tutors must have at least one advanced or AP class. Students can use their volunteer time towards the Bright Futures scholarship, which requires community service, or for National Honors Society hours.
SCHEDULE
Schedule for adults and tutors:
4:00-4:50 PM - Meeting and room setup
4:50-5:00 PM - Receive students, serve snack
5:00-6:00 PM - Tutoring
6:00-6:30 PM - Dinner
6:30-7:30 PM - Recreation time in the gym
Training
Training for new volunteers will be Tuesday, September 10.
New high school tutors will be trained at 4 PM
New volunteers and adult supervisors will train at 5 PM.
Team Building Date
Team building will be held on Tuesday, September 17 at 4 PM. This will be the first opportunity for both the high school tutors and the adult supervisors to join together.
Program Start Date
We will welcome Largo Middle School students on Tuesday, September 24. We meet at 4 PM. prior to their arrival.
If you are interested in serving at Jumpstart in any of these ways, contact our Student Ministry Director, Alison Van Duyne.