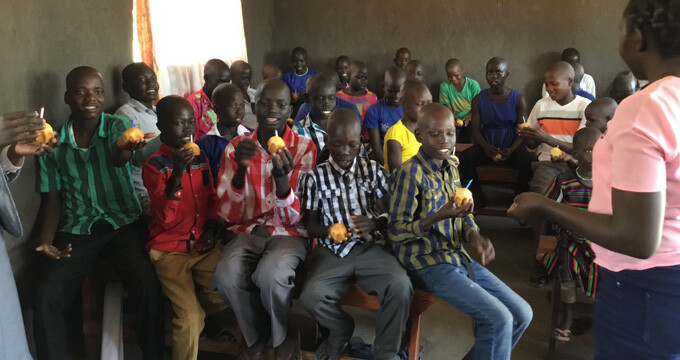 Year End Update from Carolyn Goodwin
Carolyn Goodwin shared year end updates on some of the work she's done this year with the South Sudanese refugees in Uganda. Thank you to everyone who helped to provide financial support for these projects!
Trauma Healing Workshops have reached thousands of people in the refugee camps and in South Sudan, emphasizing true healing comes from Jesus Christ.
Hundreds of blankets have been given to children and families of incarcerated parents. The blanket ministry expanded to "blankets for babies" and provides emergency supplies for new mothers to clean and wrap their babies.
Teaching Good Values was the theme of the Prison Ministry this year. We focused on Truth, Honesty, and Forgiveness. At Christmas we shared the Christmas story and gave them avocados and lollypops. In 2019 we tackle Self Discipline, Purity, and Obedience.
The kids who attend Sunday School at Eden received the same Good Values teachings as the prison. On Dec. 23 the Sunday School led worship and put on a Christmas drama, then had a churchwide meal with turkey and goat. Your donations helped a lot!
The GRACE Home kids are doing well. We combined all the kids this year and brought in tutors. They enjoyed a Nile River field trip, a big combined birthday party, and award ceremonies for their academic achievements. Thanks to the t-shirt sale every child got to pick out a Christmas outfit and shoes. They enjoyed lunch in a restaurant before heading back to camp. The following weeks they pressed their clothes with "hot iron" and showed them off to everyone until they wore them on Christmas Day. It was a very special day. Thank you!
Thus far the Lord has helped us, and He will continue to see us through this journey. I don't know what God has in store for 2019, but I am open to any surprises He may have. I'm so happy you are part of the work going on here. Your prayers are felt and are very much appreciated. If you feel led to support these outreach programs to orphans, children, prisoners, refugees go to TMS-Global.org to make a tax-deductible donation. My number is 3080. God bless you!