Beach Baptism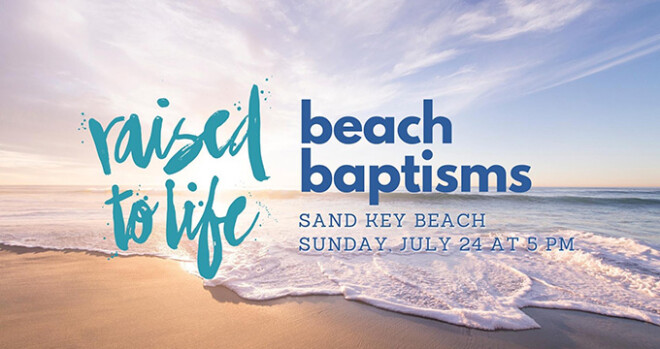 Sunday, July 24, 2022, 5:00 PM - 7:00 PM
BEACH BAPTISM
SUNDAY, JULY 24 - 5 PM
SAND KEY BEACH
We're heading to the beach to celebrate and declare that we have decided to follow Jesus! Now is the perfect time to accept God's grace and become a new person in Christ, or to recommit yourself to God and remember your baptism! Whether you plan to be baptized or remember your baptism, or want to support and celebrate others being baptized, we invite you to join us for this joyful day! We'll sing some worship songs together, be baptized in the Gulf, and spend some time together as a St. Paul family.
Anyone who wants to be baptized or reaffirm their baptism will be able to receive a baptism regardless of whether you signed up in advance.
IF YOU'VE NEVER BEEN BAPTIZED
We invite you to take the next step in your faith walk and become a new person in Christ.
IF YOU'VE BEEN BAPTIZED AND WANT TO RECOMMIT YOURSELF TO GOD
If you've been baptized before, we invite you to reaffirm your baptism by being submerged and recommitting yourself to God.
IF YOU DON'T WANT TO BE BAPTIZED
You don't need to be baptized to take part in this event! Everyone is invited to this churchwide celebration of faith!
---
GETTING TO SAND KEY BEACH
Sand Key Beach is located at 1060 Gulf Boulevard. Parking is $5 so we encourage carpooling.
CHURCH BUS: There are a few seats still available on the bus with the Student Ministry on a first come, first served basis. Those who have RSVPed have priority. Riders should arrive at 4:15 pm to load onto the bus. The bus will leave from the church at 4:30 pm.
WHERE TO PARK
When you enter the park on Gulf Boulevard turn left and continue left. Park near the first set of restrooms in the first or second lot. Look for the St. Paul flag and join us on the beach!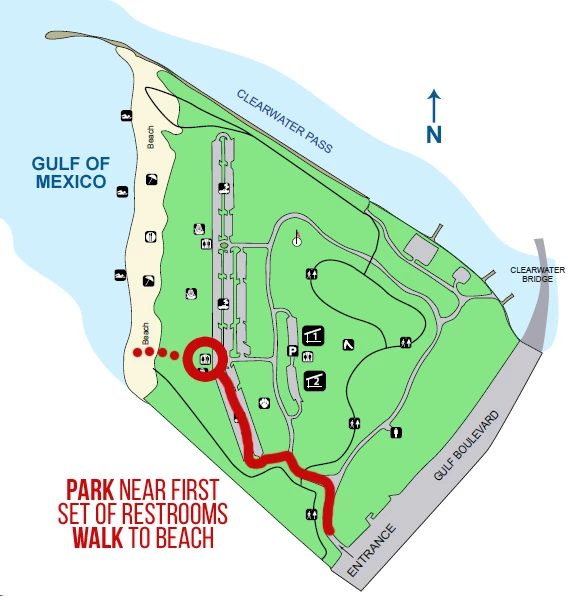 STAY AFTER BAPTISM
Everyone is invited to hang out after the baptisms and spend some time together on the beach. You may want to bring camp or lawn chairs, some food, a frisbee, etc.
WHAT TO WEAR
If you're being baptized or remembering your baptism, dress to go in the water. We will provide a t-shirt for you to be baptized in. You may want to bring a change of clothes, and don't forget your towel. If you were baptized at our last Beach Baptism event, feel free to wear your Raised to Life shirt!