Middle School Lock In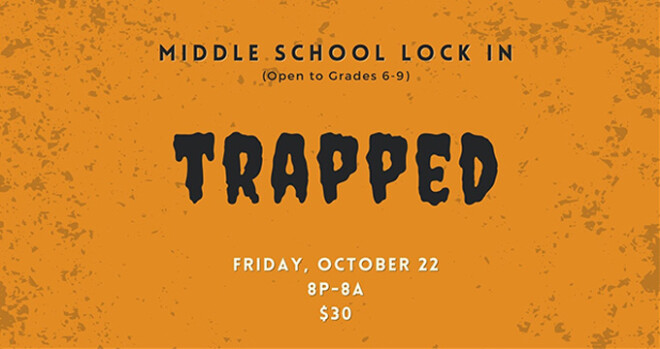 Friday, October 22, 2021, 8:00 PM - Saturday, October 23, 2021, 8:00 AM
"Trapped" Lock In
Friday, October 22 - 8 PM to 8 AM
Student in grades 6-9 are invited to join us at for a lock in! Trapped is a classic All Nighter with a twist...survival. You are placed in a building, which you may never leave. Inside the building is an eliminator that will not quit until only one student is left. The night will start with two teams. Then, every hour, on the hour, there will be an immunity challenge. The team that wins will receive immunity for that hour. The team that loses will go to the elimination round where team members will be eliminated. As the night goes on, the two teams will be combined into one. From there, only one will survive! Will you be the survivor and beat out the competition to win the grand prize worth $200? Prizes will also be awarded to second place and the person who brings the most friends.
Location
Pasadena Community Church: LEC building
227 70th Street S in St. Pete
Cost: $30
Payment due at registration. Use the form below to register to attend and to pay.
GRADES: 6-9