Financial Planning for a Lifelong Journey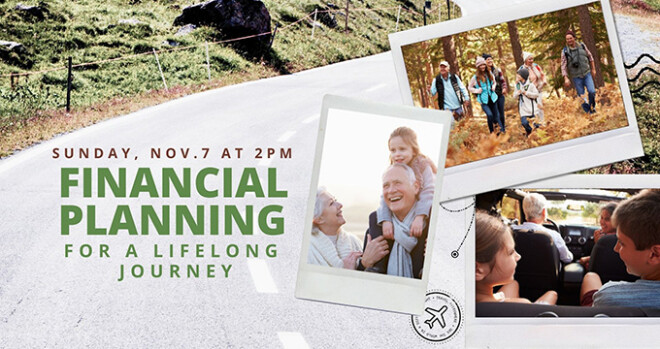 Sunday, November 07, 2021, 2:00 PM - 3:30 PM
During our lives, our families face all kinds of personal and financial milestones, triumphs, and challenges. If we plan for both expected and unexpected events, we can increase the likelihood that we will be able to:
Provide our children, grandchildren, and even great-grandchildren with financial support as they pursue dreams to further their educations, get married, start a family, or buy a home
Provide our families the information they need when we leave our lives on this earth and graduate to heaven
Provide a lasting legacy to our church that will ensure our mission to Glorify God, Grow in Faith, and Give in Love is fulfilled today, and in the future
Ensure we know what financial steps to take if our spouse's life ends unexpectedly
Provide the means for us to retire without giving up our quality of life
Live into our St. Paul value that Generosity is the heart of God, and we get to give.
Your Finance Team invites you to an educational seminar that will address these issues and more! You can attend the workshop either in person or livestream online on Sunday, November 7 at 2 PM. Livestream will be available at the same link where we normally stream worship. Join us here at 2 PM on November 2 and press the Play triangle to stream.
If you have questions you would like to have answered, please send them to Pastor Pam or include them when you register for the seminar below. Financial planning can help all of us prepare for the future and avoid unexpected financial hardships. See you there!