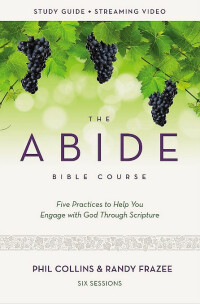 Wednesdays - 6:30 PM - Room 201
Do you ever find the Bible confusing at times? Do you feel guilty that you don't read your Bible every day? When you do sit down to study the Bible, do you find yourself easily distracted and feeling like you're missing something? If you want to look forward to your time in scripture and draw more meaning from your time in God's Word, join Pastor Don on Wednesdays at 6:30 PM for a new in person Bible study starting September 21.
The Abide Bible Study Course uses five innovative practices to help you go beyond just reading scripture and connect with God's Word in a deeper way. Jesus instructed his followers to "abide" in him so they could lead fruitful lives. This class will equip you to abide in God's Word each day so you can draw closer to him.
Sign up below to attend the class. Cost of $10 covers study guide with daily exercises to help you engage with each practice. You can pay using this form or by Cash/Check. You're also welcome to provide your own copy if you prefer.